Powerhouse, Main Dam and Spillway
Powerhouse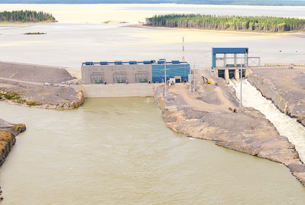 Length: approximately 120 m
Operating head (waterfall): about 22 m
Powerhouse upstream deck elevation: 235.5 m above sea level
Maximum height above structure's foundation elevation: 57 m
Water passages: three intake structures, each with a set of vertical trashracks
Other installations: south transition structure and service bay
Service Bay / Intake / Powerhouse building envelope: precast wall panels, metal cladding and roofing.

Turbines and Generators
Generators: three
Output: 66 MW each, 200 MW total
Configuration: vertical shaft, fixed blade propeller turbine with a blade runner diameter of 6.7 m
Water passage configuration: semi-spiral scroll case in each unit distributes the water from the intake over the full circumference of the turbine
Turbine discharge: water passes through draft tube and into the tailrace.
Intake Guides, Gates, and Hoists:

Installation and "dry commissioning" completed June 2011
Headgate "wet commissioning" completed September 2012

Unit 1 inservice date: June 22, 2012
Unit 3 inservice date: August 22, 2012
Unit 2 inservice date: October 6, 2012.
Electrical and Mechanical Installations
Cable raceways, security systems and cabling for the communication system
The 600V distribution system and equipment
Heating, ventilating and air conditioning (HVAC)
Water treatment/wastewater treatment plant
Fire detection system
Roadway lighting, civil instrumentation and automatic security gate
Piping
Spillway 
Location: north of powerhouse
Construction: reinforced concrete
Length: 43 metres
Number of bays: 3
Vertical lift gates: one in each bay measuring 9 metres wide by 16 metres high
Peak discharge capacity: about 2,700-cubic-metre per second (probable maximum flood rate)
Powerhouse and spillway interface: 42-metre-long reinforced concrete non-overflow gravity dam
Service functions: diversion channel during main dam construction; flood routing for the reservoir during operation.
Main Dam
Construction: earth and rock-fill embankment
Overall length: 330 metres
Maximum height above foundation level: approximately 14 metres
Crest width: 9 metres
Elevation: 236.6 metres above sea level.
Concrete Placement
Approximately 120,336 cubic metres of concrete were poured for all structures,
distributed as follows:
Spillway –11,150 cubic metres
Service Bay – 16,050 cubic metres
Intake – 29,000 cubic metres
Powerhouse – 34,200 cubic metres
Tailrace – 19,075 cubic metres
South Transition – 2,800 cubic metres
Miscellaneous Structures – 8,061 cubic metres.
Below is a link to download the Environmental Protection Plan for the Generating Station to ensure it has the smallest environmental impact possible.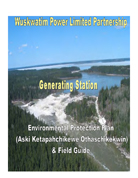 Click to view or download Environmental Protection Plan –
Generating Station [1MB PDF]