Wuskwatim Access Road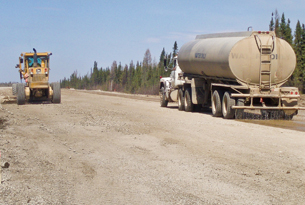 A 48-kilometre, all-weather road from Provincial Road 391, originally built to accomodate generating station construction, now provides restricted access to the generating station.
Click to link to Access Road Restrictions.
The gravel-surfaced road, started in August 2006 and completed in 2008, was built to accommodate the high volumes, weights and sizes of materials that had to be transported to the dam site. Single and double corrugated metal culverts were used under the roadway at each of the nine stream crossings.  Approximately 2.2 million cubic metres of granular material was excavated and placed along the road from gravel deposits along the route which were also used for the generating-station construction.
Minimizing environmental impact was an important consideration in route selection and ongoing environmental monitoring was part of the construction process. As specified in the Project Development Agreement, traditional cultural ceremonies were held to mark significant milestones during construction, such as stream crossings.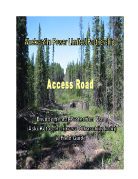 Click to view or download the Access Road Environmental Protection Plan [4.6MB PDF]