Wuskwatim Power Limited Partnership
The Wuskwatim Power Limited Partnership (WPLP) owns the Wuskwatim Generating Project.
The Partnership became operational shortly after the June 2006 signing of the Wuskwatim Project Development Agreement (PDA) in a legal, cultural and historic signing ceremony in Nelson House, NCN's home community.
WPLP consists of the General Partner (5022649 Manitoba Ltd.), Manitoba Hydro, and NCN's wholly owned Taskinigahp Power Corporation (TPC). The General Partner is a wholly owned subsidiary of Manitoba Hydro and manages the business of the partnership.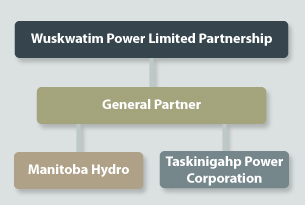 As set out in the PDA, Manitoba Hydro was contractually responsible for construction and for ongoing management, operation and maintenance of the Wuskwatim Generating Station for WPLP.
The PDA provided TPC, which holds NCN's shares in the project, the option of owning up to 33 percent of the Wuskwatim Generating Station. TPC is exercising this option and putting in place the remainder of the cash required to complete the transaction.
The Wuskwatim Transmission facilities used for connecting Wuskwatim to Manitoba's power grid, is wholly owned by Manitoba Hydro.
Board of Directors
WPLP is governed by the board of directors of the General Partner. The board is comprised of four Manitoba Hydro representatives and two NCN representatives. Current board members are:
Marcel Moody (Nisichawayasihk Cree Nation)

Jimmy Hunter-Spence (Nisichawayasihk Cree Nation)

Brenda Froese (Manitoba Hydro)
Quinn Menec, Chair (Manitoba Hydro)
Tara Carson (Manitoba Hydro)
Wesley Penner (Manitoba Hydro)
Advisory Committees
As set out in the Wuskwatim Project Development Agreement, two advisory committees were set up – the Monitoring Advisory Committee and the Construction Advisory Committee*.
The committees provided NCN with additional opportunities to receive project information during construction and to provide input regarding construction and monitoring activities while facilitating effective communication between NCN and Manitoba Hydro on issues.
Monitoring Advisory Committee
The Monitoring Advisory Committee reviews matters related to the generating station's environmental, social and economic impacts.  It monitored activities throughout construction and commissioning to determine impacts compared to baseline conditions collected before construction began.  Now that the station is operating, it continues to monitor the impact of the station in the river to determine potential adverse effects and prescribe mitigation measures if needed.
* Construction Advisory Committee has fulfilled its mandate and has been dissolved.