Transmission Facilities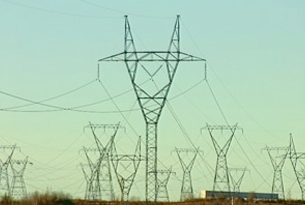 The generating station's new transmission lines and substations deliver electricity into Manitoba Hydro's existing transmission system.
Manitoba Hydro maintains ownership of Wuskwatim transmission assets including three new sections of transmission line, two new stations and upgrades to previously existing stations.
Construction of new transmission facilities was a separate project and the sole responsibility of Manitoba Hydro. It was not part of the Project Development Agreement with Nisichawayasihk Cree Nation and was outside the jurisdiction of Wuskwatim Power Limited Partnership.
Ensuring Transmission Reliability
The new lines are located south of Wuskwatim between Thompson to the east and The Pas to the West connecting to the existing power grid at the following three points to ensure reliability and versatility of transmission:
Birchtree Station in Thompson
Herblet Lake Station
Rall's Island Station in The Pas.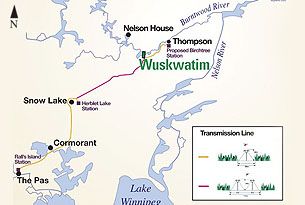 Transmission line installations include:
One 230-kilovolt-kV transmission line between Wuskwatim and Birchtree*
Two 230-kV lines between Wuskwatim and Herblet Lake
One 230-kV line between Herblet Lake and Rall's Island.
*The 230-kV line between Wuskwatim and Birchtree was initially used for developing the generating station.
The new substation at the Wuskwatim Generating Station provides voltage transformation and switching. The substation steps up the electricity from the generating station to 230 kV for transmission to the existing hydroelectric transmission system.